Banshee
Naming
Others
Bean Sí
Binomen
N/A
Morphology
Body type
Humanoid
Intelligence
Sentience
Sentient
Sapience
Sapient
Ecology
Place of origin
Ireland
Habitat
Sídhe (Fairy Mounds)
Related species
Fairy, Siren
Behind the Scenes
Universe
Real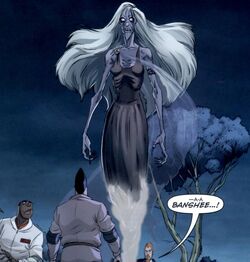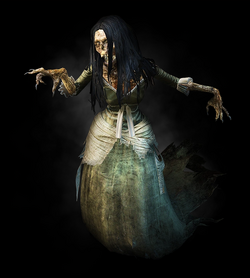 A Banshee is a female creature from Irish folklore and traditionally regarded as a type of Aos Sí or fairy. The word comes from the Celtic "Bean Sí" and originally means "woman of the Sídhe"; Sídhe being the designation for the hills inhabited by the Fair Folk.
Banshees are most well known for their wailing and their association with death. According to most legends, the lament of the Banshee signifies the approach of death for those who hear it, or for a family member.
In modern fantasy works, the Banshee is usually represented as a sinister spectral creature, sometimes capable of attacking with glass-shattering sonic screams which may even be fatal.
Works featuring Banshees
[
]
Literature
[
]
Harry Potter series
Alistair Grim's Odditorium series
Comics
[
]
Film
[
]
Banshee!!!
Darby O'Gill and the Little People
Television
[
]
Catscratch
Chip 'n Dale Rescue Rangers
Destination Truth
DuckTales
Extreme Ghostbusters
Gargoyles
Lost Girl
The Real Ghostbusters
Supernatural
Teen Wolf
Tabletop games
[
]
Video games
[
]
God of War: Chains of Olympus
The Witcher
World of WarCraft