Saoirse
Naming
Personal information
Species
Human/Selkie hybrid
Gender
Female
Date of birth
30 October 1981
Place of origin
Ireland
Age
6
Relations
Conor (father)
Bronagh (mother)
Ben (older brother)
Conor's mother (grandmother)
Current status
Active
Biology
Body type
Humanoid
Intelligence
Sentience
Sentient
Sapience
Sapient
Behind the Scenes
Universe
Song of the Sea
Created by
Tomm Moore
Designed by
Barry Reynolds
Performed by
Lucy O'Connell
Saoirse is one of the main protagonists of the 2014 Irish animated film, Song of the Sea.
Overview
In 1981, Saoirse's mother Bronagh become ill while pregnant and ran into the ocean to save and give birth to her daughter. Saoirse washed ashore and Conor could only introduce her to Ben when Ben asked about their absent mother. Since she was born, Saoirse never learned to speak, especially on her sixth birthday. Saoirse looked up to her brother and often tried to get his attention but Ben would just push or scare her away if she came near him and got annoyed at her very easily. It didn't help that Conor paid more attention to Saoirse to the point of ignoring Ben. Saoirse and her brother did have some common ground in that they loved their pet dog Cu and didn't like their fussy grandmother. Saoirse has always been curious about the seals in the ocean and the sea itself.
Saoirse first appears on her 6th birthday, looking over Ben's shoulder as he makes sketches in their mother's scrapbook, her heavy breathing alerting Ben to her presence. Ben pushes Saoirse away and gets annoyed further when Saoirse is drawn to the ocean and their dog Cu goes after her, pulling Ben into the water. Ben tries to tattle on Saoirse to their father Conor but Conor won't listen.
Appearance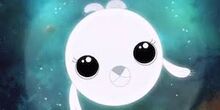 Saoirse ís a six-year-old girl with black chin-length hair and black eyes. She wears a purplish pink cardigan with a pink button atop of a coral coloured dress and yellow rubber boots. Her selkie coat is snow white and has a hood and thus turns her into a white seal-pup. She has also been seen in a long crepe pink nightgown with a white collar. On her birthday she wore a punch pink dress and a bow in the same colour and mary janes in a darker shade at the insistence of her grandmother. At the end of the movie, she wore a grayish pink tank top and a pinkish orange skirt.
Saoirse's hair turns white as she becomes ill from the effects of being away from the ocean and her selkie-coat, at first only a streak of her hair turns white but then her hair in its entirety gradually turns grey and then white.