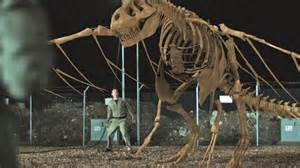 A creature accidentally created by the characters in the movie
Triassic Attack
.
History
A native american named Dakota resurrected a Velociraptor, a Tyrannosaurus Rex and a Pteranodon. These skeletons could reassemble themselves after being dismantled. While the Velociraptor was locked in a water tower, The T. Rex and the Pteranodon converged on a university and they were both shot. The bones mixed and they ended up reassembling as one hybrid skeleton.
Notes
Like the Pteranodon, despite having no membrane on the wings, it could still fly.
Community content is available under
CC-BY-SA
unless otherwise noted.